AN AWARD WINNING ARTIST, COMPOSER, SINGER
An award winning artist for her singing, songwriting and instrumental work, Eileen is a multi-instrumentalist who embraces many genres of music. She is internationally known for her soaring vocals, stunning harmonies, commanding performances and pick-less style of autoharp playing. In 2017 ,she introduced the autoharp to New York City's " Birdland Jazz Club" stage and was warmly embraced by the jazz community. Eileen's songs fuse traditional sensibilities with a contemporary vibe and are liberally peppered with themes of peace and justice. Eileen has performed at numerous festivals and venues across the United States, Australia and Denmark. Her 5th CD, "Just Words", garnered critical acclaim.
-"Eileen Kozloff presents a brilliant album full of intelligent words and wonderful music. By now the best I've heard all year!" (Folk World #65, March 2018)
Eileen is currently working on her 6th CD and hopes to release it by the end of 2021.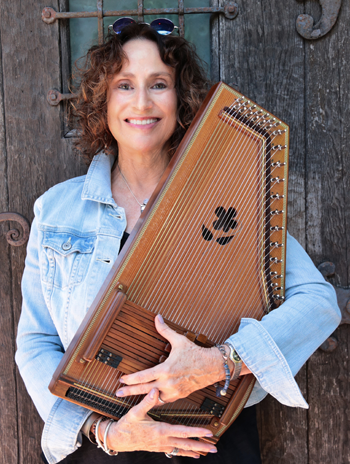 You'll love Eileen's music
Her extensive repertoire is a rich mix of Old Time chestnuts, Carter Family songs and her original compositions, which stylistically run the gamut from country, blues and folk to jazz and even rock and roll! The Old Time Herald calls her singing approach "emotive, clear and controlled, reminiscent of the best of the revivalists, such as Joan Baez or Anne Hills", and her performances 'heartfelt, with ravishing, wide ranging vocals."

find your favorites in her cd collection
Eileen's recordings have garnered stellar reviews and her discography includes two critically acclaimed CDs with her former band, Well Tempered String Band, as well as, two solo projects; "Solitary Rider" and "Hearts and Souls Entwined".  

» view videos